Engineered to help you hit better shots more often with the all-new Cap Back™ Design. SIM2 Max OS is the longest and most stable iron in the TaylorMade family, delivering incredible distance and forgiveness. 
THE NEXT LEVEL OF GAME IMPROVEMENT 
A revolutionary new Cap Back Design unlocks the next level of game improvement irons. Eclipsing the performance of traditional cavity backs, the multi-material construction promotes better forgiveness, distance and feel.  
OVERSIZED FOR MORE STABILITY 
An oversized construction delivers stability at impact, along with a larger sweet spot and more forgiveness across the entire face. The longest iron in the TaylorMade family, SIM2 Max OS features a wide sole, stronger lofts and a draw-biased design to counteract common mis-hits.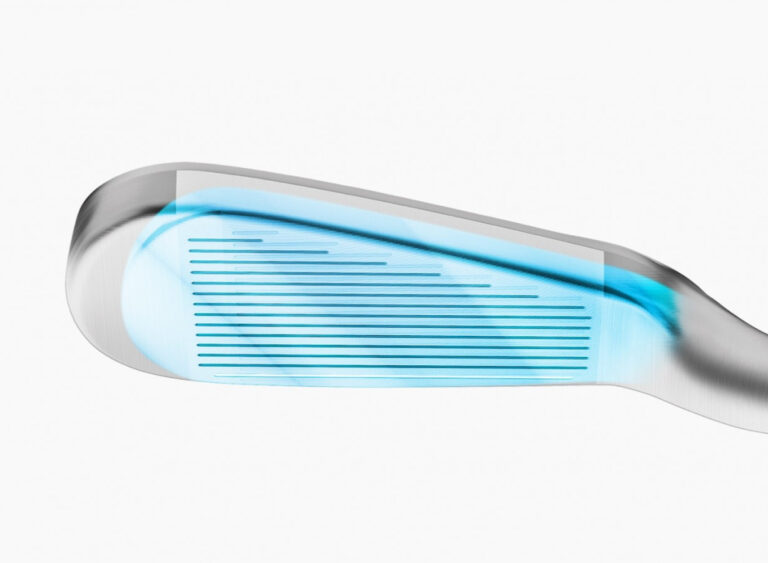 Women golfers can find an array of components in the Custom Shop, including lightweight shafts, grips and more. So, it's not women's equipment or men's equipment, simply the right equipment.
Powered by the all-new Cap Back Design and Thru-Slot Speed Pocket, SIM2 Max OS irons feature an intelligently positioned sweet spot that spans the most common impact points, delivering explosive ball speeds and consistency in all the right places.
Optimized CG placement delivers a high launching ball flight for long carry distance and heavy stopping power. While most game improvement irons have an inherent right bias, each SIM2 Max OS iron face has been engineered to encourage a neutral ball flight and counteract right misses. 
A softer ECHO® Damping System, fully enclosed by the Cap Back Design, stretches from heel to toe and absorbs unwanted vibrations, improving feel and maximizing face flexibility. 
Cap Back Design utilizes a revolutionary multi-material construction to support the entire topline from heel to toe. Crafted from a lightweight polymer, it provides stability within the topline and upper perimeter of the face to deliver improved sound and feel while working in conjunction with a reflexive Thru-Slot Speed Pocket™ in a design made to maximize face flexibility, ball speed and distance.
The introduction of Cap Back Design created a full hollow body construction, making way for the new ECHO® Damping System. The fully encapsulated system uses a softer polymer blend and multiple contact points across the face to channel away harsh vibrations creating forged-like feel.
Fast Forgiving Face with Progressive ICT
The all-new SIM2 Max irons use a fast and forgiving face to give golfers more performance exactly where they need it. An expanded sweet spot has now been intelligently positioned to capture more shots across the club face. Designed to approach the threshold of the legal limit, the new face design is fast, flexible and supremely forgiving. Each face has been uniquely designed to position Inverted Cone Technology (ICT) for optimal forgiveness and minimize the common right miss.
This patented and proven TaylorMade technology is engineered to maximize face flexibility for increased ball speed and forgiveness on mis-hits low on the face.
An array of technologies, such as a fluted hosel, 360° undercut and an ultra-thin face, work in unison to deliver an ultra-low CG engineered to produce a high penetrating ball flight.